What is Cloud Computing (AWS)?
Cloud computing is the on-demand delivery of IT resources over the Internet using a commercial provider's data center or public cloud.
Cloud computing in daily life
Have you ever wondered how your phone can support so many applications without crashing? From email to the latest video games, multiple social media apps, several browsers, and more, all these applications run on the cloud. Your phone is a window or interface, and cloud computing allows you to access and enjoy the benefits and services offered by these applications. Whether you're an avid gamer, social media influencer, or just like to watch funny YouTube videos, you exploit the benefits of cloud computing every day.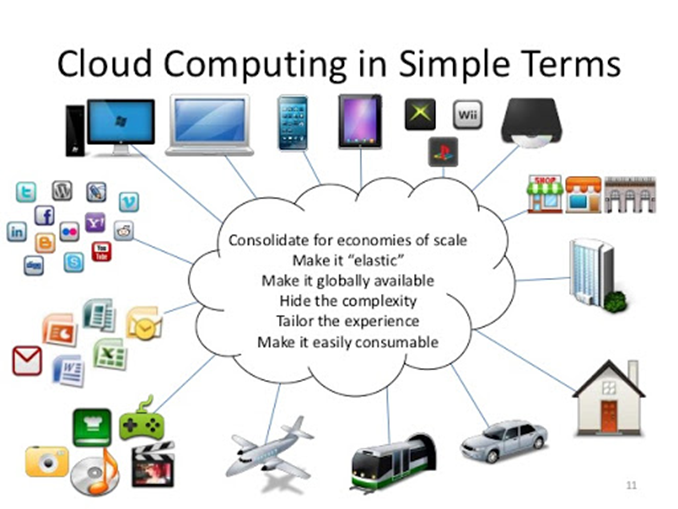 Cloud computing enables and simplifies so many tasks in your day-to-day activities. For example, when you subscribe to a video streaming platform like Netflix, you can watch your favorite television shows, original series, and movies-on-demand. You just press some buttons to access what you need on the platform. How? Streaming services are based entirely on the development of cloud computing technology. Providers like Netflix invest billions of dollars to build hardware and software for their processes. Then, they run their applications on the cloud through several servers located across the world to facilitate and fragment their streaming services into affordable bundles or subscriptions.
For example, Netflix uses Amazon's AWS cloud computing resources to fragment its service so that you and millions of fellow subscribers can afford it. Netflix creates a stream that connects your device to a server with its content and the technologies for selection and seamless transmission. Our daily lives are way sweeter, easier, and quicker, thanks to cloud computing.
Other practical use cases of cloud computing include file hosting services, secure data storage, chatbots, and backup solutions for systems, sites, and software.
Cloud computing in education
Cloud computing allows students to use multiple devices to access content and collaborate across the university's IT backbone. Universities leverage the cloud to upgrade their communication and learning systems without having to invest in infrastructure. Demographically, university students are one of the most highly networked and connected populations. For example, Monash University in Australia has over 80,000 students, faculty, and administrative staff members spread different campus locations across four continents. The university adopted a cloud-only strategy based on AWS and Azure, migrating 3,500 workloads to the cloud. Now, students use multiple devices to access learning materials and resources and collaborate globally.
Cloud computing in healthcare
Moving to the cloud allows healthcare providers to cut down operational expenses and deliver high-quality, personalized care. It also benefits the patients by enabling quick service delivery. For example, Chicago's Rush University Medical Center uses cloud computing to analyze and extract relevant information from piles of unstructured data. Using NLP capabilities of machine learning, the center's cloud computing technology can read doctors' typed and handwritten notes and gather actionable insights to help diagnose and treat patients.
Cloud computing in business
Data-intensive business processes leverage cloud computing. For example, Salesforce offers ERP, CRM, and business email and document management. Businesses can access the provider's cloud-based services via the SaaS model. Salesforce stores their operational data and information in multiple redundant sites on the cloud providers, allowing businesses to access and use them to run mission-critical operations. Cloud computing makes many processes more reliable and increases the competitive advantage.
Whether it is in business, healthcare, education, or daily life, cloud computing plays a critical role in enabling processes and simplifying day-to-day activities. You can rely on CloudElite to learn cloud computing and exploit all the benefits that the cloud has to offer. Contact CloudElite today!