AWS starting 6-figure Salaries
Do you want to know the secret to land a 6-figure salary in IT? Well, specialize in AWS cloud computing. As a cloud specialist, you don't have to hold an executive position to enjoy a six-figure salary. This exclusive club of the world's top-earners is open to all AWS certificate holders, which is within your reach. And there is more! Did you know that the salaries of IT professionals with AWS certification have been increasing since it was introduced eight years ago?
According to Indeed, the average salary of an AWS cloud engineer in the US is $126,397, making it one of the highest-paying certifications globally. If you already have Citrix and Red Hat/Linux certifications, cross-certifying with AWS can boost your salary by $12K.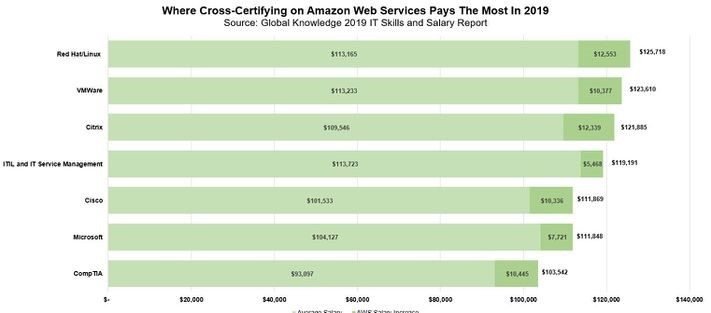 The phrase "Nice work if you can get it" comes to mind when you see these numbers! Luckily, CloudElite can help you get into this exclusive club. What about the highest paying AWS cloud computing roles?
Top 5 Highest Paying AWS Certifications
AWS role-based certification offers two career paths for cloud computing specialists with high-paying roles in each category. You can join CloudElite's AWS program and attain the skills needed to pass associate-level and professional-level certification.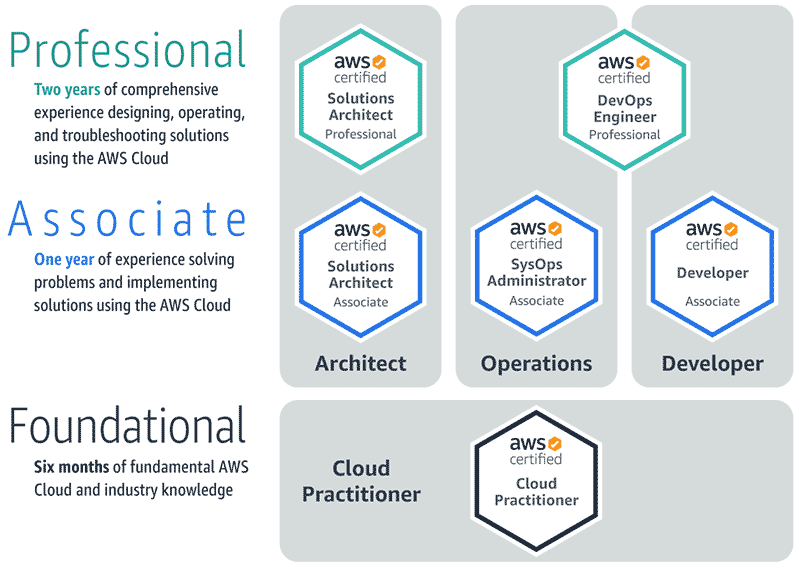 Then, get a high-paying role working as a developer, systems operations administrator, or solutions architect. Here are five of the top 6-figure AWS salaries and related certifications and skills.
1. Professional-Level AWS Certified Solutions Architect
This high-paying professional level is open for associate-level AWS certified solutions architects. Leveling up is worth every penny. According to a recent survey, professional-level AWS Certified Solutions Architects earn an average salary of $148,456. To get this certification, you need experience designing and deploying highly scalable apps on AWS and migrating complex multi-tier applications on AWS. CloudElite is always here for you!
2. AWS Certified DevOps Engineer
If you're an associate-level AWS developer or SysOps administrator, the next step in your career should be the AWS Certified DevOps Engineer. Only certified administrators and developers can take this professional-level certification and increase their salaries further. According to Global Knowledge's report, the average salary for AWS Certified DevOps Engineer is $137,724. Skills in implementing and managing delivery systems and methodologies on AWS, maintaining operations automation tools, security controls, and governance processes can help you get this high-paying certification.
3. AWS Certified Developer
This increasingly popular AWS certification is ranked 6th highest paying job in North America. The average annual salary for AWS Certified Developer associate is $130,272. To enjoy this salary, learn how to code for optimization, select AWS services, code-level app security, and leveraging SDKs. CloudElite is here for you.
4. AWS Certified SysOps Administrator
This certification validates candidates' technical expertise in AWS deployment, management, and operations. According to a recent survey, the average salary for associate-level AWS Certified SysOps Administrators is $130,610. You'll need a firm grasp of app migration from on-premises to AWS, controlling AWS data flows, and identifying mechanisms for operational cost control.
5. Associate Level AWS Certified Solutions Architect
The certifications for AWS Certified Solutions Architect associate come with several high-paying jobs. Global Knowledge's IT Skills and Salary Survey also found that the average salary for AWS Certified Solutions Architect with associate-level certifications is $130,883. You'll need expertise in designing and deploying scalable systems on AWS, selecting AWS services based on requirements, and deploying apps from on-premises to AWS. CloudElite can help you acquire these skills and prepare for the exam.
The cloud computing field is still wide open. Now is the best time to get certified and enjoy these top-paying roles. At CloudElite, we offer comprehensive AWS courses for different levels. Our online training courses and hands-on practice labs focus on instilling the skills you need to get certified and build a successful AWS cloud computing career. CloudElite is the best program for anyone seeking to invest in their career. Contact us today to get started!